✨ Elevate your cooking experience with CrispEase Air Fryer Armor Liners! 🛡️ Crafted from superior food-grade aluminum, our liners promise waterproof, oil-proof, and non-stick reliability. They're designed to withstand high temperatures without burning or buckling, ensuring a 100% healthy cooking journey. Say goodbye to paper liners that char and leak – our Armor Liners are here to revolutionize your baking and frying!
🧼 Keep your air fryer pristine with no effort! With these disposable wonders, bid farewell to scrubbing and scraping. Just cook, lift, and toss – maintaining a spotless appliance has never been easier. Our value pack of 50 ensures you're always ready to whip up a feast, be it a casual family dinner or a grand holiday spread.
🍗🥦 Whether you're roasting a succulent chicken or steaming a vibrant veggie medley, our liners elevate your meals while minimizing mess. The 4 cm raised edges are a fortress against spills and splatters, safeguarding your fryer's integrity. They're not just for air fryers; embrace versatility with liners fit for ovens, steamers, and BBQ grills.
🔥🌳 Journey to the great outdoors with confidence. Perfect for picnics, barbecues, and campfire cooking, our liners are the trusty sidekick for any adventure. Lightweight and easy to pack, they're the eco-conscious choice that doesn't skimp on convenience.
🎉 Celebrate every occasion with CrispEase – from summer BBQs to festive gatherings. Our liners are the ultimate kitchen tool, ensuring that your focus remains on creating memorable dishes and moments, not on cleanup.
🌟 "I hosted a summer cookout and used CrispEase liners for everything – grilling to baking desserts. Cleanup was a breeze, and nothing stuck! These liners are a game-changer." – Jamie R., Happy Customer
🛒 Don't let mess deter your culinary creativity. Add CrispEase Air Fryer Armor Liners to your kitchen arsenal today and transform meal prep into a simple, clean, and enjoyable process. Get your pack now and join the ranks of effortless chefs!
MynaMart: Your Marketplace for Innovative Kitchen Solutions.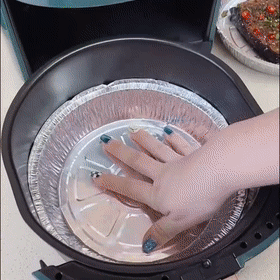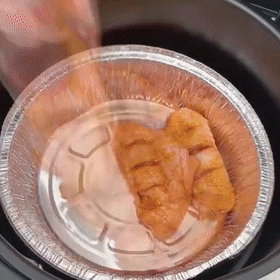 Product information:
Category: Disposable Disks
Material: aluminum foil
Plastic: Aluminum Foil
Size: 6.7.8.9 inches
Thickness: 0.5mm
Shape: round
Color: 6-inch deep plate B-252, 7-inch deep plate B-253, 8-inch deep plate B-254, 9-inch deep plate B-313
Specifications: 50 pieces, 10 pieces, 20 pieces, 30 pieces
Size: 
Deep section 6 inches: bowl diameter about 14.5cm* height about 4cm
Deep section 7 inches: bowl diameter about 18cm* height about 4cm
Deep section 8 inches: bowl diameter about 20cm* height about 4cm
Deep section 9 inches: bowl diameter about 23cm* height about 4cm
Packing list:
Tin foil bowl*10/20/30/50pcs