Discover the fusion of elegance and functionality with the LuminaVanity Pro – your travel-friendly beauty companion! MynaMart is excited to present a gadget that's revolutionizing the way beauty aficionados store and use their makeup essentials.
Unveil a New Level of Convenience Say goodbye to cluttered makeup bags and hello to organized bliss. With its large capacity storage, the LuminaVanity Pro fits all your makeup, skincare, and beauty tools in one stylish, portable case. The sleek cross-grain PU leather exterior comes in three chic colors: pristine white, blush pink, and classic black, perfect for expressing your style.
Customizable Compartments with Protection Each partition within this fashion-forward cosmetic case features an anti-drop sponge pad, ensuring your products stay intact, no matter where your travels take you. The thoughtful design lets you adjust the space to fit bottles and palettes of varying sizes – because your beauty routine should be as flexible as your lifestyle.
Illuminate Your Beauty Routine At the heart of the LuminaVanity Pro is a professional 4K mirror, surrounded by adjustable fill lights. With a simple touch, transition from cool to warm lighting, casting the perfect glow to match any environment. Whether you're prepping for a day at the office or a night out, see your skin in high definition and impeccable detail.
Travel with Ease Compact in design (26cm x 23cm x 11cm), yet grand in capacity, this innovative cosmetic case is equipped with a durable 2000mAh battery, making it your go-to gadget for on-the-move touch-ups. The rated input of 5V ensures that keeping it charged is as simple as any daily device.
---
💌 Testimonial: "I've taken the LuminaVanity Pro on three trips already, and it's a game-changer! My makeup stays organized and protected, plus the lighting options make applying makeup in any hotel room a dream. Absolutely love it!" – Emily R., MynaMart Verified Buyer
---
Ready to redefine your beauty experience? Embrace the ultimate in convenience and style with the LuminaVanity Pro. Click 'Add to Cart' and join the community of beauty enthusiasts who won't settle for anything less than perfection!
Size Information: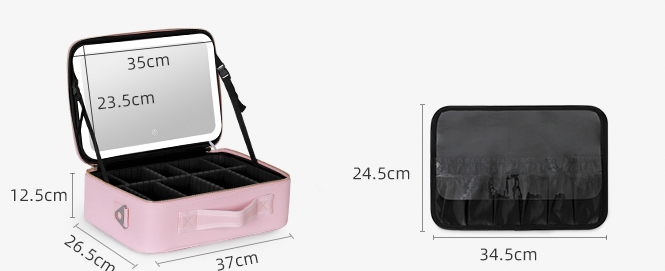 Packing list:
Cosmetic bag*1(
With CE certification, built-in battery, and battery life
)