🌟 Elevate your space with the revolutionary LumiTune Wireless 3-in-1 – the ultimate gadget that combines style and functionality for the modern home and office. MynaMart is proud to present a device that seamlessly integrates a touch control lamp, wireless charger, and portable Bluetooth speaker, all in one sleek package.
🌐 Versatile Wireless Charging: Say goodbye to tangled wires and lost charging cables. The LumiTune's wireless charging pad is engineered to power up your iPhone and AirPods effortlessly, keeping your devices charged and ready at all times.
🎵 Superior Sound Quality: Experience audio excellence with the LumiTune's Bluetooth speaker. Whether you're enjoying your favorite tunes or need clear sound for your conference calls, our speaker ensures a premium listening experience.
💡 Touch Control Lamp: A gentle touch is all it takes to illuminate your space. The LumiTune lamp casts a warm, ambient light perfect for your bedside or desk, creating a calming atmosphere wherever you need it.
📱 Adjustable Convenience: Featuring a 180-degree rotating light bar, the LumiTune doubles as an adjustable phone holder. Position your phone at the perfect angle for video calls, watching media, or just keeping an eye on notifications.
🔧 Specs at a Glance:
Bluetooth 5.0 connectivity for a stable, hassle-free connection
A frequency response range that captures the subtleties in your music: 100HZ-20KHZ
A robust signal-to-noise ratio of ≥70db for uninterrupted audio clarity
Crafted from high-quality plastic for durability and elegance
Efficient 9V2A power rating, with a supportive voltage of 9V
📣 Hear it From Our Customers: "I've replaced three different gadgets with my LumiTune, and my nightstand couldn't look any better! It's not just a lamp or a speaker; it's a centerpiece that makes my life easier." – Jane D.
🛒 Ready to transform your daily routine? Add a touch of sophistication and practicality to your life with the LumiTune Wireless 3-in-1. Shop now at MynaMart and experience the blend of innovation and elegance that only our exclusive gadget can provide!

Size Information: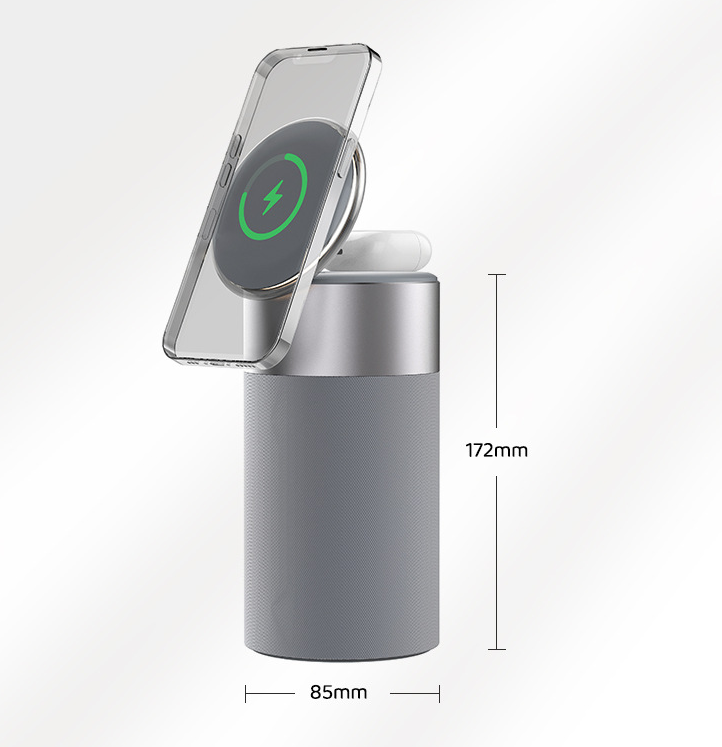 Packing list:

Sound *1